Importance of Management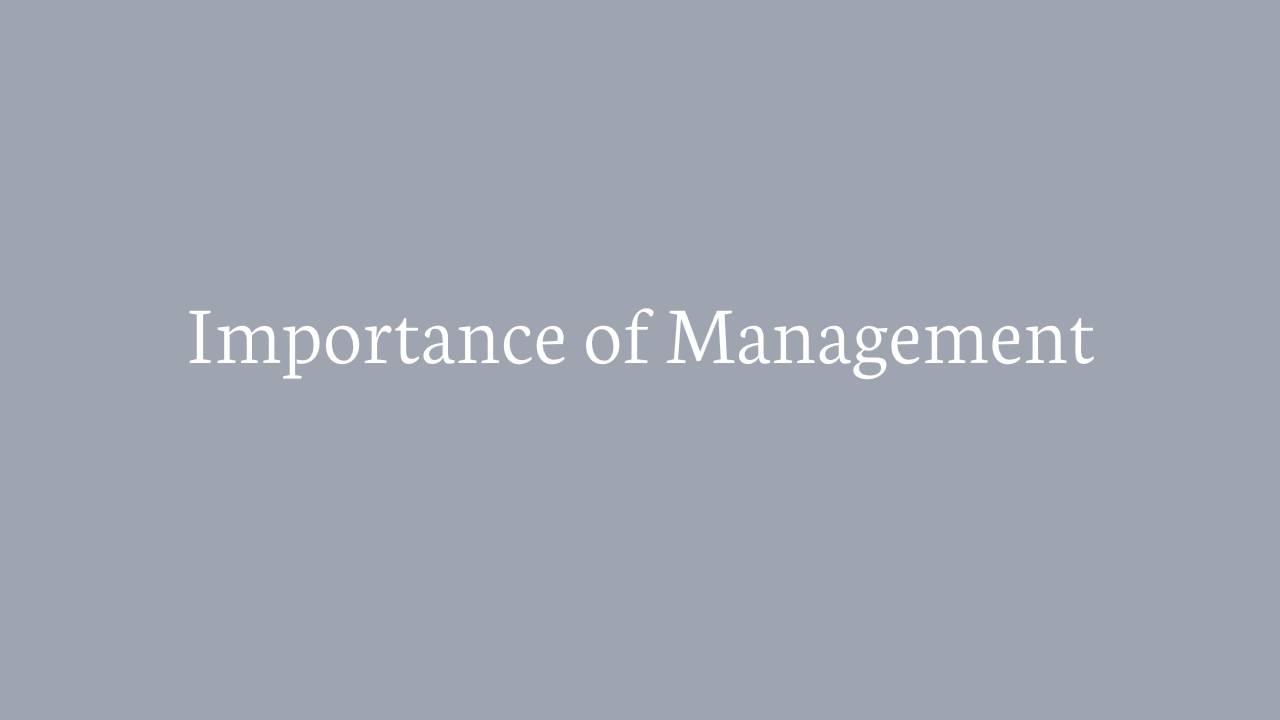 Management is a multidimensional phenomenon that covers the ongoing processes in the organization related both to its internal and external environment. Modern management serves to develop the organizational culture and innovations. It allows organizations to survive and thrive. The importance of this phenomenon is determined by company's ability to manage economic performance, achieve competitive advantage, social and economic benefits, motivate employees, and more. An immense contribution of innovations depends on the managers' ability to overcome different challenges such as risks, costs, and time successfully. Effective management contributes to using emerging technologies and improving workplaces. It also helps organizations achieve their goals, make better decisions, be more efficient, and earn more profit. Thus, management plays a vital role in any organization because it involves the coordination of personnel activities.
The Background of the Concept
Management aims to direct, control, staff, and organize employees with the aim to accomplish organizational goals. In addition, it also serves to provide planning of organizational activities. These processes are important in the coordination of human and material resources necessary for the effective achievement of tasks. The literature reveals that with the help of a set of principles, methods, and forms of managing organizations, management helps them to thrive and survive in the modern market (Scott, 2011). Therefore, it can aid business to adapt to such areas of professional activity as economic, marketing, accounting, control, educational, and research.
Management was introduced into business with the need to explain why the organization thrived or collapsed. Researchers in this field try to find out what the success of the organization is. Therefore, they have achieved their goal, using tests and practices by the method of attempts and errors. Organizations form the basis of the world of management that encourages leaders to find the most effective methods of managing employees. Many studies assert that the primary task of management is to create an organizational culture and a creative climate, which stimulate employees to innovate (Scott, 2011). As a rule, managers of various units are initiators of technological and organizational changes.
Functions of Management
Management has different functions in organizations. Moreover, it permeates the whole company, affecting all spheres of its activities. However, with the diversity of the interaction between management and an organization, it is possible to define the boundaries of activities that constitute the essence of management. Thus, experts have determined that it serves to focus on the quality and competitiveness of products, increase the degree of profit and consumer customer satisfaction, improve the image and reputation of the organization, and ensures financial stability (Griffin, 2017). In addition, management allows companies to ensure the rational use of all types of resources and increase labor productivity. Moreover, it plays an important role in the introduction of the latest achievements of scientific and technical progress. Therefore, managerial functions are rather multifaceted.
Furthermore, creative managers know how to use functions to benefit an organization. Griffin (2017) believes that any enterprise is a complex system that needs to determine management functions, taking into account several factors, such as material, labor and financial resources, equipment, buildings, and others. In addition, it should focus on the management process, involving planning, organizing, regulating, controlling, and accounting. Thus, planning helps organizations determine the main directions of their business, including perspective orientation and early recognition of problems. Moreover, it outlines the state of the facility and provides specific measures aimed at supporting favorable development trends or deterring negative ones. It also creates an objective basis for effective control.
Another function that aims to eliminate deviations from the specified mode of operation is regulation. It allows organizations to redistribute material, technical, and financial resources. Regulation involves the process of developing corrective measures and implementing organizational, technological, economic, and technical decisions that ensure timely and unconditional elimination of identified problems (Dodgson, Gann, & Phillips, 2014). The regulatory function is a flexible instrument, through which the production process is continuously introduced into a strict framework provided by the plan. Therefore, it helps managers implement decisions and monitor their execution.
Management also aims to coordinate, motivate, control, and direct employees that benefit an organization. Thus, coordination allows firms to ensure an even flow of production. In order to achieve coordinated work of units, managers hold meetings with other managers to identify service activities and material support of production. Next, motivation contributes to the better performance of the personnel, and as a result, the organization can delegate rights and duties in accordance with accepted management decisions (Dodgson et al., 2014). Furthermore, the directing function of management allows organizational leaders to influence the behavior of employees. Therefore, the functions mentioned above are the basis for management.
The Purpose of Management
The purpose of management is aimed at the most effective use of workforce to achieve organizational and personal goals. Today, everyone understands that in order to make profit and maintain competitiveness, management must optimize the return on investment of any resources, such as material, financial, and most importantly, human. When an organization really cares about people, its general philosophy, climate, and mood necessarily affect its performance. Consequently, the concept of management is based on two main aspects, which are functional and organizational (Griffin, 2017). From the functional perspective, human resources management involves the following: (1) the definition of the overall strategy; (2) the planning of the personnel needs; (3) staff selection and evaluation; (4) development and training; (5) promotion system, and so on (Griffin, 2017). In fact, organizationally, management covers all employees in the organization that are responsible for working.
Furthermore, management focuses more on practical actions than on conceptual procedures and rules. Thus, it plays a great role in solving problems and tasks assigned. Moreover, it maintains the development of all personnel members and each individual employee, creating necessary working conditions. The recent studies suggest that management is focused on the future since it helps the company develop strategic objectives (Scott, 2011). Moreover, unlike other specialties, it influences employees, encouraging them to gain organizational goals. Managers are key professionals in organizations. Therefore, to perform their activities, managers must play a number of roles, such as interpersonal, informative, communicative, analytical, technical, and decisive.
The goal of the organization is fixed in the form of individual characteristics. In this respect, management helps companies identify activities necessary for their success. Dodgson et al. (2014) believe that strategic management describes how the firm with its available resources is going to compete under current and future conditions. Moreover, it helps the organization meet needs of its customers for a long time. Most companies formulate a strategy they must implement quite successfully. It can solve the issue of the viability of the organization.
The Role of Knowledge Management in Organizations
In the modern economy, the engine of which is information, organizations see much more value in their intellectual assets than in physical. Knowledge management helps support knowledge that needs to be shared being the basis for cooperation. Moreover, it helps to promote innovations. According to the research by Dodgson et al. (2014), knowledge management provides an infrastructure for building electronic and social networks for the development of new products or services. In addition, it facilitates and provides access to various ideas, such as giving other people an opportunity to benefit from them. It also increases possibilities for cooperation and enriches the process of sharing explicit and indirect knowledge among employees. In fact, knowledge management encourages the free movement of ideas.
Furthermore, knowledge management provides necessary information that helps the decision-making process. Oftentimes, it contributes to the generation of new knowledge in by sharing and collaborating with co-workers. Knowledge management uses information and knowledge to bring organization's actions in line with its mission and vision (Scott, 2011). Moreover, it increases the level of customer satisfaction, improves customer service by streamlining their response time and improves the result and experience gained by customers when using services. Ultimately, it creates competitive advantage, contributing to the achievement of knowledge of the highest quality and the satisfaction of clients' needs. Therefore, knowledge management is the main engine of innovations in an organization.
Conclusion
Management plays a vital role in an organization since it helps to coordinate such activities as leading, planning, controlling, as well as organizing employees. In addition, management helps organizations develop strategic directions and improve customer satisfaction. It performs many other functions that help companies survive and thrive in a complex business environment. Management creates an organizational culture and innovation climate, which stimulate employees to innovate. Using planning, controlling, and regulating processes, it allows organizations to use their resources rationally and to increase labor productivity to compete. Since managers are key professionals in organizations, they play a number of roles, such as interpersonal, informative, communicative, analytical, technical, and decisive. Moreover, the goal of management is to use information and knowledge in order to bring organization's actions in line with its mission and vision. Therefore, companies are prone to succeed due to effective management.
References
Dodgson, ?M., Gann, ?D. M., & Phillips, N. (Eds.). (2014). The Oxford handbook of innovation management. Oxford, UK: Oxford University Press.
Griffin, R. W. (2017). Management (12th ed.). Boston, MA: Cengage Learning.
Scott, J. T. (2011). The concise handbook of management: A practitioner's approach. New York, NY: Routledge/Taylor & Francis Group.